Administration
IIUM Press advances knowledge and learning. We are an office of the International Islamic University Malaysia and share the objective of excellence in research, scholarship, and education by publishing worldwide.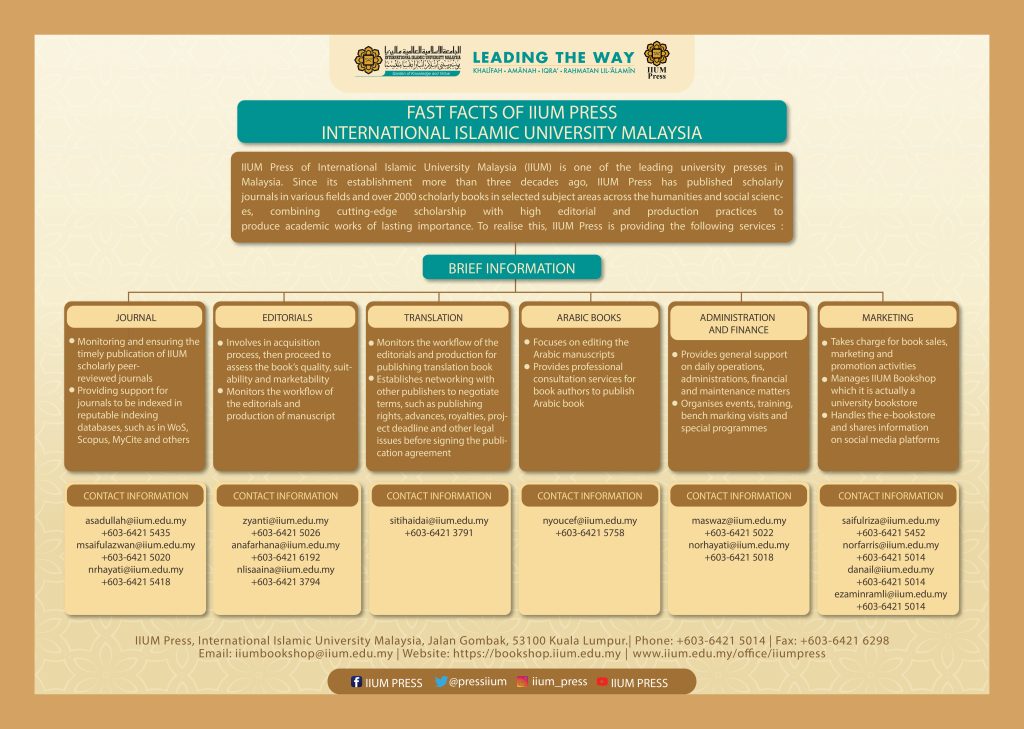 IIUM Press of International Islamic University Malaysia (IIUM) is one of the leading university presses in Malaysia. The IIUM Press is a global ambassador for IIUM, distributing our books and journals worldwide each year. Malaysia, as part of the Malay World has a long tradition of learning and intellectual debate in Islamic Studies.
We are coordinating the administration functions in accordance to University policy and procedure and within all guidelines. We provide office and administrative support, managing the administrative, office operation in term of resource, publishing development and expenditures.  We also developing staff, training and assisting to convey the clients / stakeholders with regard to the IIUM Press publishing information.
Finance is focused on the performance of the day-to-day financial activities that keeps IIUM Press operation running efficiently and effectively.
This role is vital for the smooth-running university's press in preparing the annual budget, managing the publishing operational fund expenditure i.e. Operation fund, IIUM Press Trust Fund and MAPIM Trust Fund. The responsibility also includes coordinating, managing the office purchasing of stationeries, furniture's, and IT equipment's, receiving, directing visitors, processing the payment and claim process. 
The function of the unit as follows: