Overview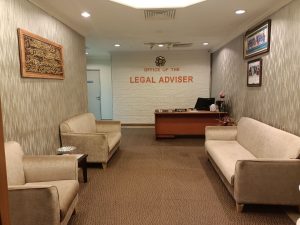 This office is put under the purview of Office of the Rector. The Office is headed by a Legal Adviser appointed among the academic staff that has vast experience in legal matters. The Legal Adviser is assisted by a Deputy Legal Adviser, Legal Officers and Senior Assistant Directors in performing day to day duties.
Further, the Majlis in its meeting no 103 held on 20th May 2014 had approved on the establishment of the Office of Integrity as per the directive of the Ministry Education. The office is established under the purview of Office of the Legal Adviser after taking into consideration that the scope of function is closely related to the Office of Integrity.
Latest structure as per decision of Board of Governors (BOG) Meeting No. 42 held on 20th October 2015, Office of Integrity was renamed as Integrity Unit to reflect its actual line of reporting authority under the Office of the Legal Adviser.