---
---
BACKGROUND & HISTORY
" THE OFFICE OF SECURITY MANAGEMENT (OSEM), (PREVIOUSLY KNOWN AS SECURITY MANAGEMENT UNIT (SMU)) STARTED IN 1983 IN PETALING JAYA CAMPUS WHERE THE IIUM WAS FIRST ESTABLISHED THEN.
"IN 1995, SMU WAS DISCHARGED FROM THE OSHE AFFILIATE UNIT UNDER THE MANAGEMENT SERVICES DIVISION (MSD) AND WAS GOVERNED UNDER A DIRECTOR BY CHANGING HIS NAME TO THE OFFICE OF SECURITY MANAGEMENT (OSEM).
"THE UNIT INITIALLY HAD 15 SECURITY PERSONNEL AND WAS HEADED BY AN ASSISTANT SECURITY OFFICER. OVER THE YEARS, THE OFFICE OF SECURITY MANAGEMENT EXPANDED AND NOW HAS THE STRENGH OF 189 PERSONNELS COVERING TO IIUM CAMPUSES AT GOMBAK, KUANTAN, EDU-HUB PAGOH AND CFS GAMBANG
STARTING IN 2014, OSEM HAS SENT 22 MEMBERS OF THE SECURITY GUARDS TO ATTEND THE BASIC POLICE ASSISTANCE (KAPB) BIL COURSE. 1/2014, LOCATED AT THE POLICE TRAINING CENTRE (PULAPOL) LANGKAWI, KEDAH.
A TOTAL OF 22 MEMBERS SUCCESSFULLY COMPLETED THE KAPB BIL COURSE. 1/2014 AND AWARDED A CERTIFICATE OF APPOINTMENT OF POLICE ASSISTANCE. ON 24 FEBRUARY 2014, TAN SRI DATO' SRI KHALID BIN ABU BAKAR, THE INSPECTOR-GENERAL OF POLICE, AWARDED THE CERTIFICATE OF APPROVAL FOR THE ESTABLISHMENT OF THE IIUM AUXILLIARY POLICE .
---
OFFICIAL LAUNCHING CEREMONY OF IIUM AUXILIARY POLICE BY IGP, TAN SRI KHALID ABU BAKAR ON 24 OCTOBER 2014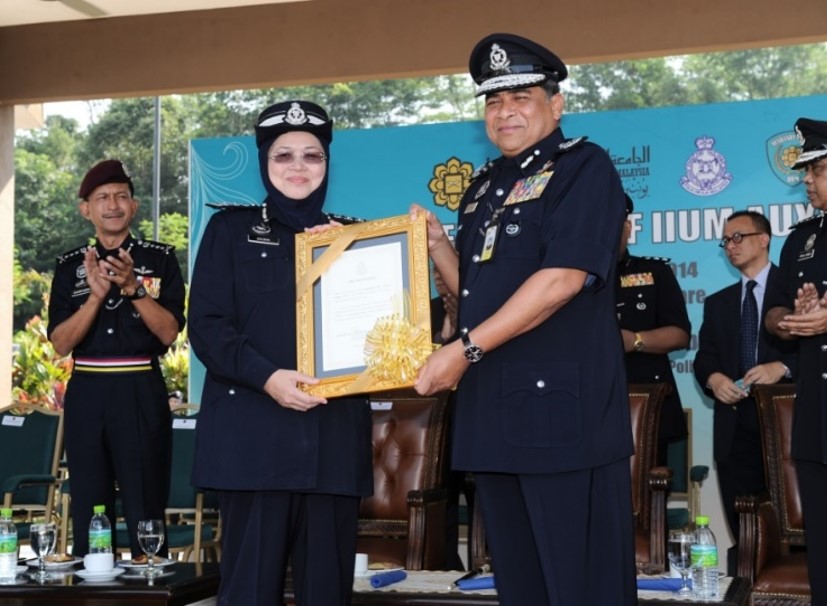 - VIGILANT – DYNAMIC – PRUDENT –