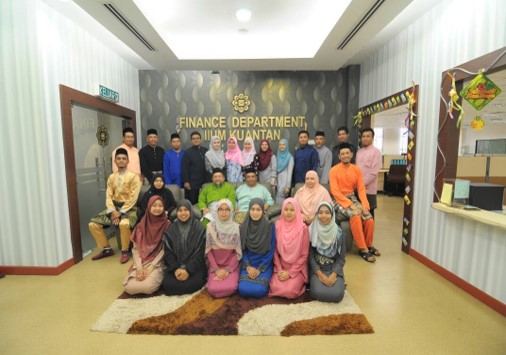 The Finance Division was established to manage the financial affairs of the University. Headed by Mdm. Naaimah Binti Mat@Ahmad Radzi as the Executive Finance Director, the Finance Division has 43 staff who amongst other thing handles account & investment, payroll, payments, loans, contracts & supplies, budget and bursary. The Finance Division is striving for a Total Quality Management and to adapt the approach of a learning organization in our way for excellence.  
Started as a small Finance Unit at the Kulliyyah of Medicine, with the establishment of the Kuantan Campus in 1997,  the unit expanded into Finance Department in 2005 to further facilitate the above-mentioned financial services for the IIUM Kuantan Campus community as one of the departments under the  Office of the Campus Director.  The Department which is headed by Hj. Zaidi  Abd Ghani as the Director has 18 staff who amongst other thing handles Accounts and Receivables, Budget,  Procurement, Payment,  Student Financial Services,  Trust Fund, Financial  Reporting, Financial Analysis and many more function related to the financial operation and services for the campus.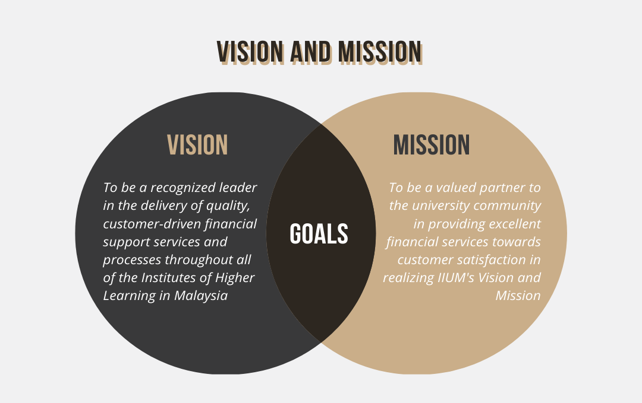 To plan the University's finance at macro and micro level in efforts to reduce Government dependency.
To manage the University finance effectively and efficiently within the allocated budget and in accordance with the University's Financial Policies and Procedures.
To offer expertise, advice and assistance in the University's decision and policy making in matters relating to finance and accounting.
To prepare and submit timely financial reports and statements to the relevant authorities as required under the University's Constitution, Government's Orders and Circulars, Acts and Bylaws.
To integrate and practice Islamic financial systems, management and concepts in the University's financial system.
To carry out financial activities in a manner consistent with Islamic character i.e. in the highest professional, ethical, moral and legal standard.
To adopt the concept of 'learning organization' by implementing continuous upgrading of knowledge through formal training, reading and discourses.
Normala binti Mahmood
PERSONAL ASSISTANT
Senior Accounting Assistant (W22)
09-570 4052
allarissa@iium.edu.my
Hj. Zaidi b. Abd Ghani
DIRECTOR
Accountant (WA54)
09-570 4051
zaidi_ag@iium.edu.my
Mohd Zaim Khairi bin Hj Mohd Kenali
Accountant (WA41)
09-570 4054
mohdzaim@iium.edu.my
Student Financial Services Unit, OSC
Noormaizah binti Mokhtar
Senior Assistant Accountant (W32)
09-570 4053
maizah@iium.edu.my
Abd. Ghani bin Ab. Rahman
Senior Accounting Assistant (W26)
09-570 4057
agani@iium.edu.my
Budget and Trust Fund Unit
Muhamad Amin bin Othman
Assistant Accountant (W29)
09-570 4061
aminothman@iium.edu.my
Normala binti Mahmood
Senior Accounting Assistant (W22)
09-570 4052
allarissa@iium.edu.my
Procurement & Asset Management Unit
Ahmad Khuzairi Irfan bin Alias
Assistant Accountant (W29)
09-570 4064
ahmadkhuzairi@iium.edu.my
Muhammad Sabri bin Jamaluddin
Accounting Assistant (W19)
09-570 4062
muhammadsabri@iium.edu.my
Accounts Unit & Receivables
Nor Ashiqin binti Mokhtar
Assistant Accountant (W29)
09-570 4055
ashikinmokhtar@iium.edu.my
Umair bin Azalan
Accounting Assistant (W19)
09-570 4058
umair@iium.edu.my
Salehuddin bin Lokman
Senior Assistant Accountant (W32)
09-570 4056
salehuddin@iium.edu.my
Nor Suhaida binti Salleh
Administrative Assistant (Clerical/Operation) (N19)
09-570 4260
suhaida@iium.edu.my
Nur Athierah binti Azmi
Accounting Assistant (W19)
09-570 4065
athierahazmi@iium.edu.my
Intan Syalia binti Wahid
Accounting Assistant (W19) – Kulliyyah of Medicine
09-570 4425
intansyalia@iium.edu.my
Student Unit, Finance Department (OSC)