In June 2012, a new centre called IIUM Centre of Islamisation (CENTRIS) was established. Its establishment  was meant to spearhead  the Islamisation mission of the University which was regarded earlier  as one of its four missions. The Islamisation mission was later elevated as the FOUNDATION of the University in IIUM Strategic Plan 2013-2020. 
Among others, CENTRIS is expected to plan, develop and implement various Islamisation projects and programmes. It is also expected to systematize and coordinate Islamisation activities and initiatives in IIUM especially with regard to Islamisation of human knowledge or IOHK.
The Distinguished Professor Tan Sri. Dr. Mohd. Kamal Hassan was appointed the Chairman of the Centre together with a Senior Assistant Director Sr. Zurina Abdul Ghani on 1st July 2012 followed by the appointment of its first Director, Assoc. Prof. Dr. Hazizan Md. Noon on 1st September 2012, Deputy Director I, Assoc. Prof.  Dr. Akram M.K.M. Khedher on 1st November 2013.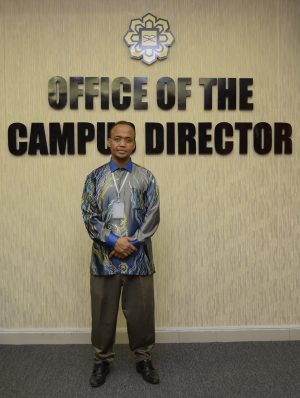 IIUM Centre for Islamisation or CENTRIS was established in May 2012 to spearhead the University's mission and vision of Islamisation and integration of human acquired knowledge. The Centre aims to synthesize academic and scientific efforts of integrating human acquired knowledge, which is the main mission and the foundation of the university.
CENTRIS-Kuantan was then established on November 2015, as a branch of IIUM Centris, which functions under the purview and supervision of the Office of Campus Director, OCD, with a post of Deputy Director. It facilitates academic activities and learning oriented programmes and workshops, conferences or seminars that are set for integration of human knowledge in IIUM Kuantan Campus, with particular focus on the integration of the subjects of Islamic studies and science based academic fields. 
CENTRIS-Kuantan functions as the secretariat for the academic activities for Integration of knowledge in the campus level, thus it collaborates with various Kulliyyahs (faculties), institutes, divisions and centres within and outside the University.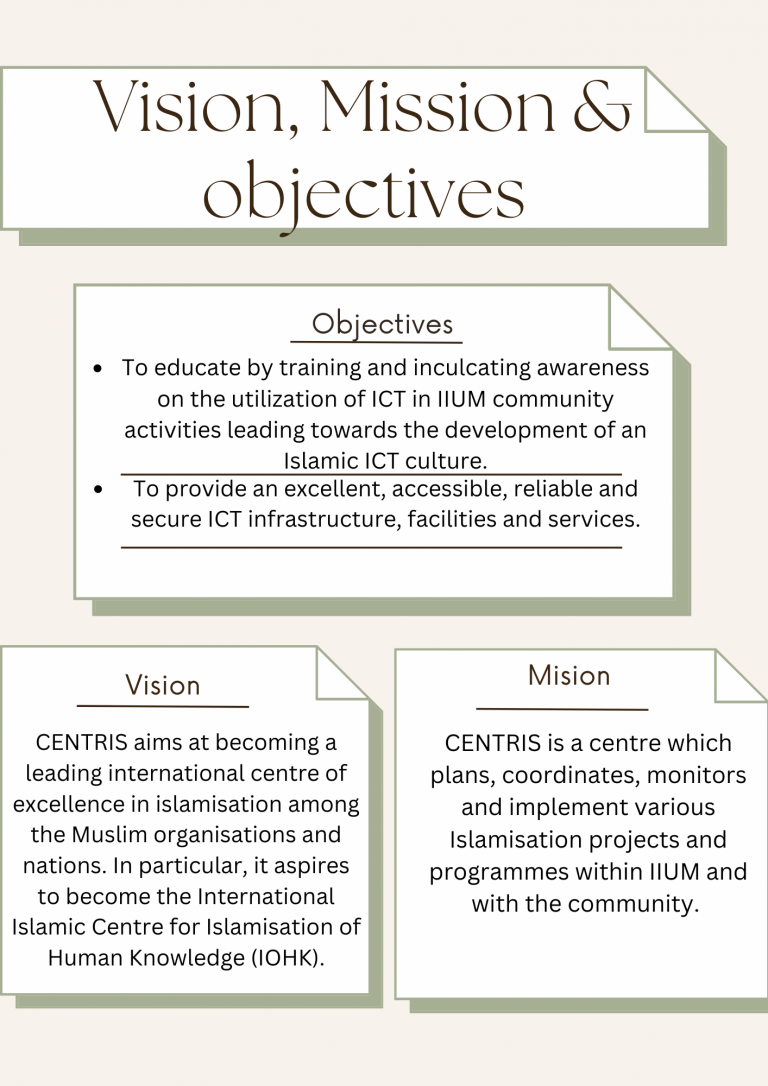 Watch the video on Launching of the Islamisation Policy.
ENJOY….
Islamisation Policy Poster
To act as a think tank for the university with regard to Islamisation matters.
To act as the Secretariat for Islamisation Key Result Area (KRA) of IIUM Strategic Plan 2013-2020.
To collaborate with various parties within and outside the University in order to enhance its Islamisation mission.
To conduct training and retraining programmes regarding Islamisation for the identified target groups.
To undertake research projects and publish material pertaining to Islamisation.
To provide consultancy on Islamisation.
To coordinate Islamisation activities in University.
CENTRIS also has been conducting numerous programmes and activities which can be categorized as follow:
Islamisation Key Result Area Project (University-level initiatives to implement the IIUM Strategic Plan 2013-2020).
CENTRIS-Run Programmes and Activities.
Collaboration Programmes (Collaboration between various faculties, centres and departments).

Other Programmes and Activities (Involved projects such as publication, research, consultancy and so on)