The Director
Assoc Prof TPr Dr Muhammad Faris Abdullah
Email: mfaris@iium.edu.my
Ext: 5851
Dr Muhammad Faris began his career as a town planning officer in a private urban planning firm before joining IIUM as an academic staff. He has worked on various consulting jobs including preparation of urban development plan, preparation of environmental management plan and development of planning support systems for both private and public clients.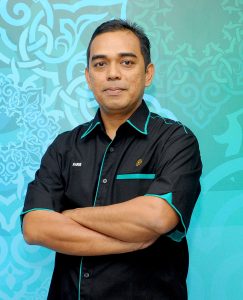 ---
Secretary
Aznita Ahmad Zaini
Email: nitazaini@iium.edu.my
Ext: 5851
Aznita Ahmad Zaini is one of the IIUM Outstanding Administrator Award winners and the IIUM Best Staff Award winners with a great personality and huge knowledge of administration.  She is a certified Customer Service Trainer since 2018.  Able to interact with others and work in a team effectively.  Possess a strong leadership and positive character and always ready to give a helping hand.  She always involves in major University events, especially concerning protocol and welcoming VIP guests.