Entrepreneurship Unit (formerly known as Entrepreneurship and Management Unit) has been established under the Student Development Division since 2004. The Majlis Meeting No.98 which was held on 28thOctober 2010 had approved the establishment of Entrepreneurship Development Centre (EDC) in order to coordinate and manage activities as well as to conduct entrepreneurship-related academic programs.
At its early stage of operation on 3rd January 2011, EDC had begun its operation with only two officers. Later, on 15thFebruary 2011, the first Director of the Entrepreneurship Development Centre had been appointed to lead the over-spilling entrepreneurial activities which cater the high demand of entrepreneurship programs. With the abundance of activities and programs, the expansion of staff has successfully uphold the Centre as a leading centre of entrepreneurship.
MESSAGE FROM DEPUTY DIRECTOR
To become a leading Centre that promotes entrepreneurial mindset and provides a platform for entrepreneurship education systematically and holistically.
To provide a conducive environment and eco-system for entrepreneurship development.
To develop entrepreneurship activities and programs in instilling a life-long learning.
To enhance the development of entrepreneurship programs.
To stimulate entrepreneurship spirit through self-discovery.
To strengthen the competency of entrepreneurship personnel.
Entrepreneurship Student Centre
EDC is a centre which students who are interested in business activity on campus are need to register their business first and need an approval from us follow our SOP office. Aimed at encouraging students to open their own business, this body offers push-carts with affordable rental price per month.  Interestingly, EDC only allow students to be the vendors around the campus. Located at Level 1, Wadi Budi Building, it is a quick and easy access for students to easily deal with what the students had actually planned.
For those who are interested, please feel to contact our office (EXT: 4292/3595)
Documents needed:
Application Form
Business Plan 
Recommendation Letter by Director/HOD/Principal/Dean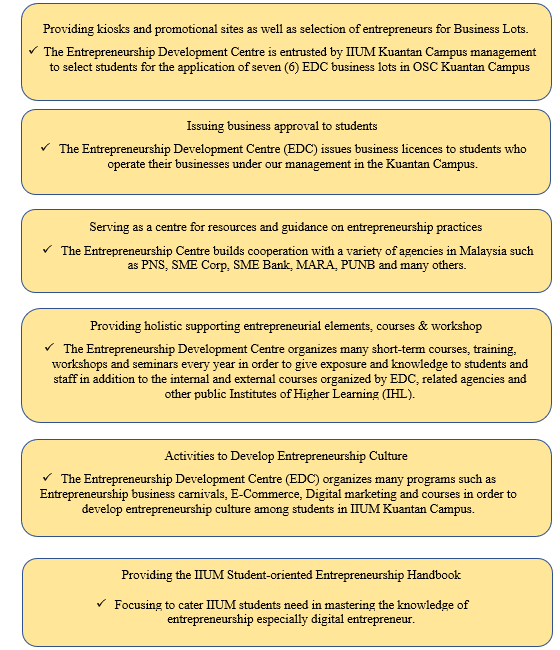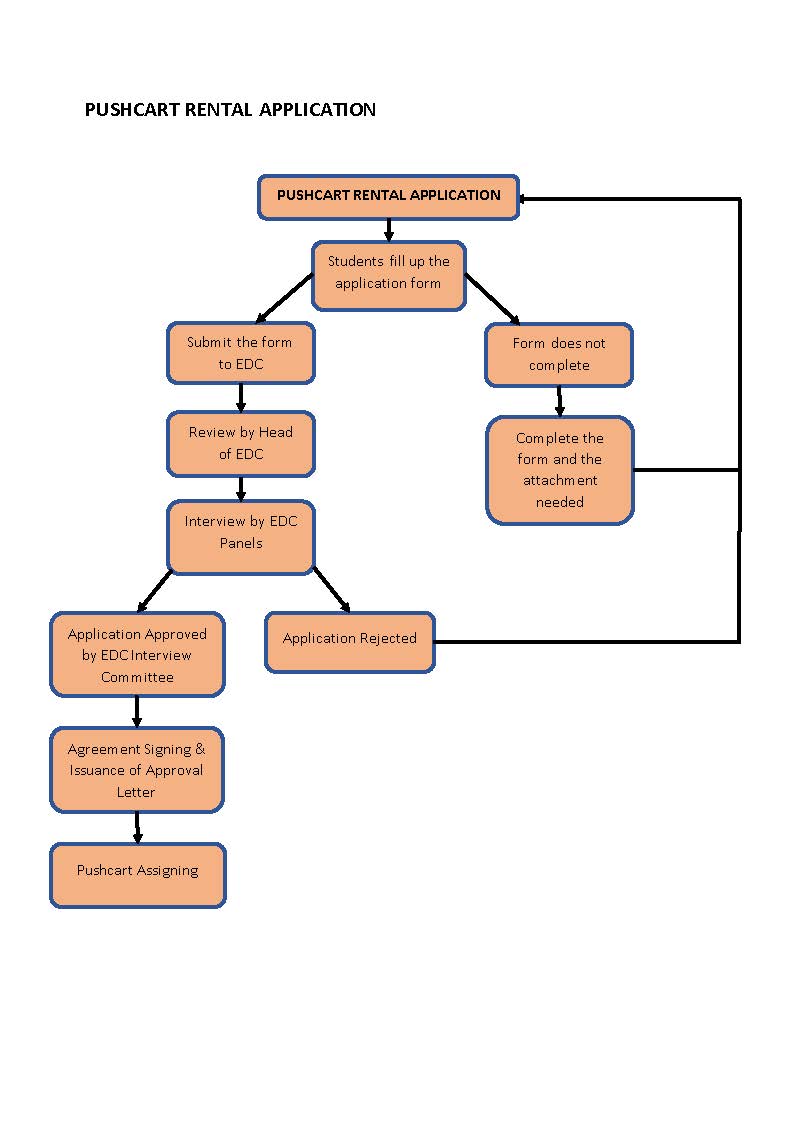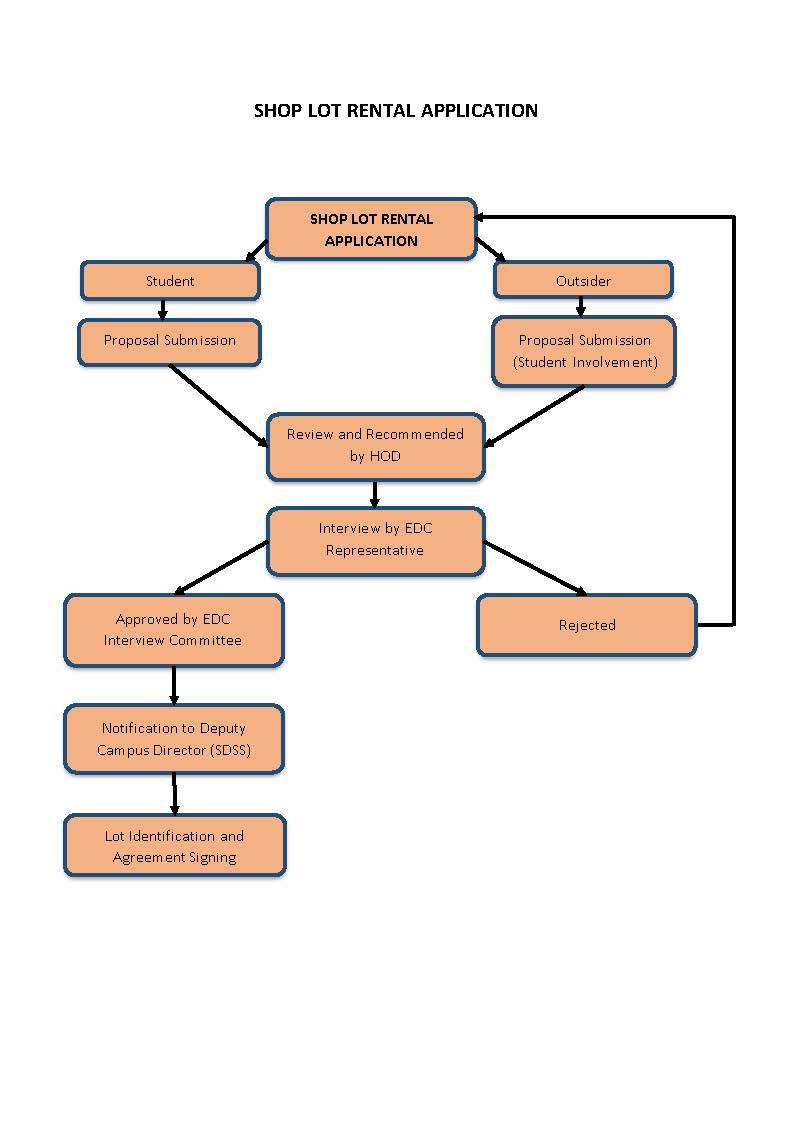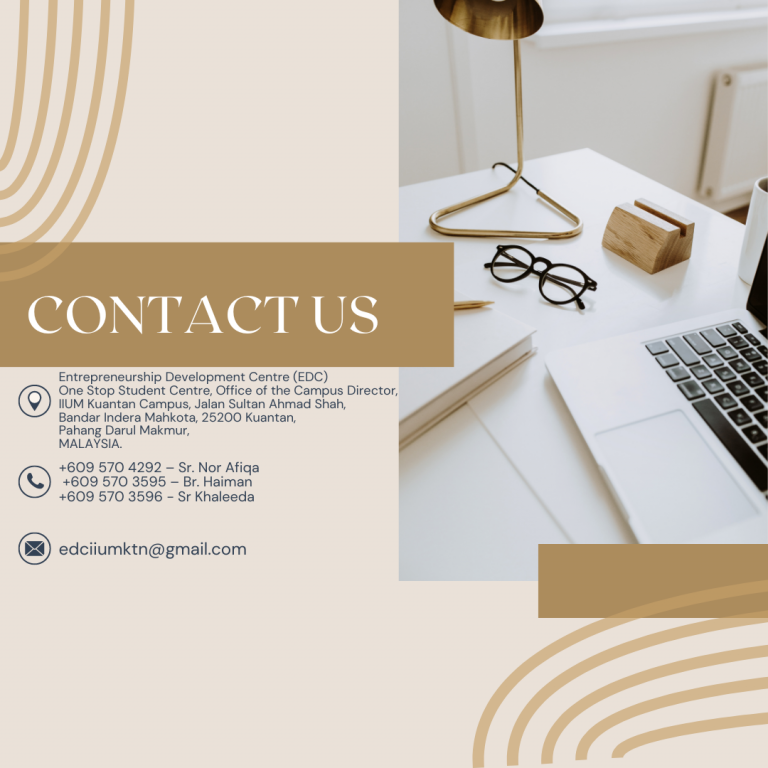 Entrepreneurship Development Centre (EDC)
One Stop Student Centre, Office of the Campus Director,
IIUM Kuantan Campus, Jalan Sultan Ahmad Shah,
Bandar Indera Mahkota, 25200 Kuantan,
Pahang Darul Makmur,
MALAYSIA. 
+609 570 4292 – Sr. Nor Afiqa 
+609 570 3595 – Br. Haiman
+609 570 3596 – Sr Khaleeda
Email – edciiumktn@gmail.com

EVENT